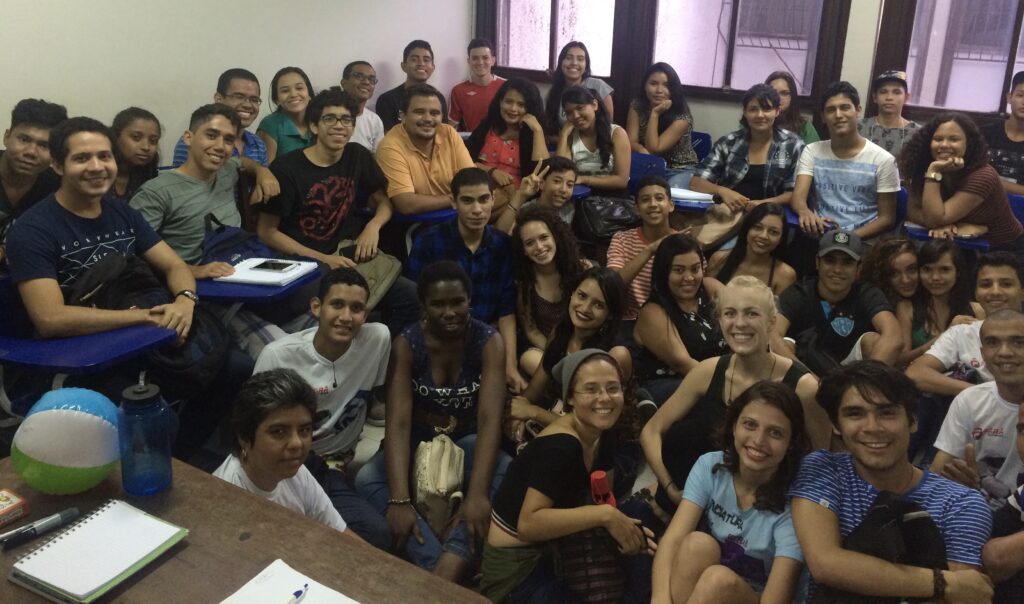 What is the Fulbright ETA Program?
The program helps to improve the teaching of the English language and U.S. culture and values at Indigenous Teacher's Colleges at public universities throughout Brazil. Students at these institutions attend three-to-four-year undergraduate programs to graduate as K-12 teachers and teach at indigenous schools. U.S. English Teaching Assistants cooperate with Brazilian faculty members and are under their supervision while taking over some responsibilities, such as conducting classes, creating teaching materials, and developing workshops and projects related to EFL.
Although ETAs are not full-fledged professors, the program is a professional development opportunity to advance their teaching skills and have a positive experience on a Brazilian campus.
The Fulbright Commission assigns two Fulbright ETAs to each Indigenous Teacher's College. We match ETAs with the appropriate host institution, basing assignments on the host institution's needs and the ETA's profile.
Approximately 20 grants are available annually, with full maintenance benefits for the grantee.
What can ETAs do during their grant?
ETAs should expect to complete between 25 to 30 hours per week of classroom teaching, planning and preparation included. Teaching assistantship activities can vary from institution to institution and depend also on the ETA's background and qualifications.
Community engagement is another component of the ETA Program. ETAs must join in activities related to their personal, career, and/or educational interests for 10 to 15 hours per week.
Candidates should consider a project they intend to pursue if awarded the grant and since they will not know where they will be placed in Brazil, these activities should be flexible respective to geographic location. For example, grantees may pursue a course of study, research topics or issues relative to Brazil, engage in specific volunteer activities, or a combination of these.
What are the requirements to be an ETA in Brazil?
Being a U.S. citizen.
Holding a Bachelor's. Candidates with a Master's degree are preferred.
Having some experience (one to two years) in tutoring/classroom teaching for (young) adults.
Candidates with a degree in TESOL, ESL, English, Linguistics, or Education are highly preferred.  Candidates with other degrees but who demonstrate a genuine interest in English Teaching as a career opportunity should also apply. The Fulbright Program will sponsor the TEFL/TESOL certification for these candidates if they go through the final selection. The grant confirmation will be subject to completing the certification before the grant begins in March 2025.
Having good Portuguese proficiency (at least two years of college-level studies). Applicants should have intermediate skills in Portuguese or advanced skills in Spanish at the time of application. Advanced skills in Portuguese are highly recommended for when the grant begins, to settle in comfortably and pursue independent interactions with contacts in the community that are not related to the English teaching project at the host institution. A Foreign Language Evaluation completed by a college-level language instructor is required and must be supported by a Language Self-Evaluation completed by the applicant.
Presenting evidence of leadership skills and maturity to represent the United States.
Being available to be in Brazil for one academic year, beginning in March 2025 and ending in December 2025, following the Southern Hemisphere academic calendar.
How much is the financial aid?
Monthly maintenance of U$ 1,020
Relocation allowance of U$ 1,020
International round-trip U.S. – Brazil
Accident and sickness coverage
Are there other benefits?
Assistance in applying for the appropriate Brazilian visa.
Arrival orientation and mid-year meetings, both with mandatory participation.
General administrative support from the Fulbright Commission in Brazil.
Explore Brazil with the giant alumni network and current ETAs countrywide.
What should I consider before starting my application?
If you fit the requirements, please reflect on the following remarks before starting your application:
The ETAs' first responsibility is to the Fulbright program and the Brazilian institution they are assigned to. No one should apply for or accept the ETA award unless they can commit fully to the calendar of activities at their host institution.
The Fulbright Commission places two ETAs in each participating Indigenous Teacher's College at public universities based on the profile of ETAs and institutions. Applicants should not apply for or accept this award unless willing to take on the Commission's assignment.
The grant does not provide financial or logistical support for dependents. Also, because ETAs are placed at universities throughout the country where family housing, schooling, and childcare limitations may exist, dependents shouldn't accompany grantees for the full grant term.
Requests for travel outside of Brazil are limited to 14 consecutive days and must coincide with the break in the academic calendar of the host institution. Excluding emergency situations, grantees will not be permitted to travel outside of Brazil while host institutions are in session — no exceptions.
Grantees may not be in Brazil for more than three cumulative months in the 12 months before the grant start.
Are there any special instructions for the application?
All ETA semi-finalists must submit a lesson plan sample to the Fulbright Commission. Please check the special instructions for semi-finalists button in the right corner. We will contact you with the deadline and submission instructions when we reach the final stages of this year's selection, approximately in January 2024.
How can I learn more about the application and this year's deadline?
The Institute of International Education – IIE handles all application stages. Please check their website.
Applicants affiliated with a university should contact the Fulbright Program Advisor at their institution for application information and deadline. At-large applicants (no longer at a university) should contact the Institute of International Education or the Fulbright Commission directly.
The competition deadline for the Fulbright Teaching Assistant Program 2024-2025 is October 10, 2023 at 5 pm EST.
Specially selected committees will review all applications, and grants are awarded in competition and depending on funds available.
Did you know that?
The Fulbright Commission in Brazil administers the ETA Program in close cooperation with the Brazilian Federal Agency for Support and Evaluation of Graduate Education – CAPES, which is also the co-sponsor of the ETA Program.
Aditional information
Check below the blogs of former ETAs:
See the Fulbright Brazil Instagram takeover by our U.S. and Brazilian grantees:
These links are being provided as a convenience and for informational purposes only; they do not constitute an endorsement or approval of the Fulbright Commission Brazil of any opinions of the grantees.
Testimonials
Dominique Griffith ETA 2018 and 2019

I had previous exposure to the beauty of Brazilian culture, but my Fulbright experience in Ilhéus, a historical city in the state of Bahia, introduced me to the richness of Bahian culture – a culture that is very distinct from the rest of Brazil.

Laura Reilly ETA 2018

Through Fulbright, I taught English at a university in Brazil. Through the theme Roadtrip Across America, we taught around 70 students each week and hosted cooking classes, movie discussions, writing workshops & more.

John Martin Dewald ETA 2019

I loved working as an ETA at UFOP. My Co's were fun and inspirational, the professors were approachable and supportive, and the students were a pleasure to teach. I fell in love with the culture, the language, and the country.

Ashley Bryant ETA 2017 and 2018

My time as a Fulbrighter in Brazil was transformational. From being an ETA to growing in my responsibilities as a Mentor in my second year, I learned the foundations of what it means to be a leader, cross-cultural communicator, and multicultural educator.

Ivan Lamas-Sanchez ETA 2019

Although the transition and adaptation were a bit difficult, I found myself making friends, looking forward to conversation club, and giving love and care to parts of me that the United States would never allow.

McReynolds Sommers ETA 2018 and 2019

My experience as an ETA in Brazil was transformative because it challenged me to think more critically about myself, the world, and myself in relation to the world. I worked with incredibly motivated students from diverse backgrounds, an experience that reaffirmed my belief that we can positively impact our world through education.

Danielle Mayall ETA 2019

The Fulbright grant allowed me to immerse myself in a completely new environment and encouraged me to step outside of my comfort zone in every aspect.

Daniel Magerman ETA 2017 and 2018

It's not hyperbole to say that I fell in love with the place, the people, and even the language before long... and I remember the people - my hosts, my friends, my co-workers, my students, my fellow Fulbrighters - who made the experience so special.

Luis Quijano ETA 2018 and 2019

Professionally, I was able to work with Brazil's largest cohort of Idiomas Sem Fronteiras (IsF) emerging professors at the Universidade Federal do Rio Grande do Sul (UFRGS) to create and offer a diverse curriculum of English courses for students and community members.

Regina Stroncek ETA 2017 and 2018

My time as an ETA and Mentor in Brasília was an unforgettable experience. I had the privilege of working with students at UnB and IFB-Riacho Fundo and curated workshops and mini-courses on topics such as puns, representation in American musical theatre, songs of resistance, and sit-coms in English-speaking countries.

Prof. Fernanda Mota UFBA, Salvador

The ETAs brought countless contributions to our internationalization process and the expansion of our repertoire of cultural, linguistic and human experiences, highlighting the value of cooperation and interpersonal relationships.

Prof. Italo de Assis UVA, Sobral

The Fubright ETA program has had a huge impact at UVA. Not only academically, but it has also allowed our students to develop a cultural awareness about the US that would have hardly been achieved otherwise.

Prof. Katia Morais UNIPAMPA, Bagé

ETAs promote intercultural awareness at home. Also, their diverse backgrounds make our education international as they tutor in the writing center, teach dance classes, do LGBTQ+ research, and foster multilingual journal writing.

Prof. Maria Cristina Ferreira UFG, Goiânia

The opportunity to interact on a regular basis with the ETAs have definitely enhanced students' communicative abilities, not to mention the opportunity to raise cultural awareness. In particular, this initiative has been especially relevant for the internationalization process of our university.

Prof. Marcia Del Corona UNISINOS, São Leopoldo

The ETA Program had great impact at UNISINOS. The ETAs helped improve the knowledge of English and American culture of our pre-service English teachers, approximated students of a variety of undergraduate courses and encouraged institutional actions towards internationalization.

Prof. Paula Tavares Pinto UNESP, São José do Rio Preto

I am extremely thankful to all the ETAs who have worked with us and to the fact that they often had different academic fields, which was a challenge at the beginning, but became a very positive aspect to our interdisciplinary projects.
Subscribe for Fulbright updates:
We will notify you when applications are open